"a hard-headed British jury" [BOSC]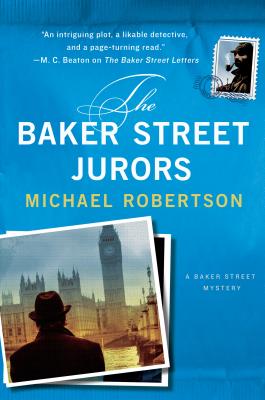 The Baker Street Jurors
by
Michael Robertson
is a delightful lighthearted mystery much in the vein of today's popular cozy mysteries. The book is part of the
Baker Street Letters
series involving brothers Nigel and Reggie Robertson who have offices at 221B Baker Street and spend some of their time answering letters addressed to Sherlock Holmes. Nigel and Reggie are a legal team with Reggie as the barrister and Nigel as the solicitor.
This book focuses on Nigel because Reggie is away on his honeymoon and is only mentioned in the book. This is part of Nigel's recent string of bad luck. While his happy brother is away enjoying marital bliss, Nigel has returned to London from Los Angeles where the love of his life, Mara Ramirez, has split with him.
A big distraction comes to Nigel in the form of a jury summons. What could be the crime of the century has occurred. Rory McSweeney, a national hero who has led England's cricket team to the international championship has been accused of murdering his wife by beating her to death with his cricket bat. Nigel's law office has received two different summons. One is addressed to him, the other is addressed to Sherlock Holmes.
As Nigel ends up as an alternate on the jury, the real mystery starts to develop. While hearing the case of Mr. McSweeney, many of the jurors start having accidents, and one by one, they need to be replaced by the alternates. Who is responsible for these accidents? And what is the motivation?
This book is a fun summer read. Nigel is a great sympathetic character. He is a nice guy who comes across as shy and kind, and throughout the book you can't help feeling bad for him, having to deal with being on a jury which he has no desire to be on, trying to solve the mystery while dealing with the other kooky jurors, and also running the law office while his brother is away.
My only complaint with the book is that it is described as a great read for fans of Sherlock Holmes and it is no such thing. The book has a sort of Sherlock Holmes character who says some Sherlock Holmes quotes, but that connection to the consulting detective is tenuous at best. This is more of a book for fans of Agatha Christie than fans of Doyle, and that is not a criticism, just a fact. I wouldn't want someone reading this book expecting a Sherlock Holmes style mystery to be disappointed. This book is too good for any form of disappointment.
The Baker Street Jurors
is available in both
hardcover
and
Kindle
editions.
Derrick Belanger is the author of the #1 bestselling book in its category Sherlock Holmes: The Adventure of the Peculiar Provenance
, which was in the top 200 bestselling books on Amazon. He also is the author of the MacDougall Twins with Sherlock Holmes books, the latest of which is Curse of the Deadly Dinosaur
, and he edited the Sir Arthur Conan Doyle horror anthology A Study in Terror: Sir Arthur Conan Doyle's Revolutionary Stories of Fear and the Supernatural
. Mr. Belanger has recently started the publishing company Belanger Books which released the Sherlock Holmes anthology Beyond Watson. Derrick Belanger also is a frequent contributor to I Hear of Sherlock Everywhere. He resides in Colorado and continues compiling unpublished works by Dr. John H. Watson.
--